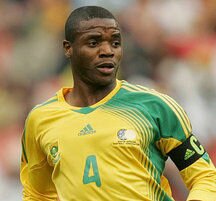 Tickets for the Bafana Bafana vs Niger match at the Mbombela Stadium in Nelspruit on Saturday 4 September 2010  are selling fast, in spite of being more expensive that previous tickets.
R50 Tickets are Sold Out
According to information gathered by KickOff.com from Safa, more than 22 000 tickets have already been sold. The tickets for the lower grand stand which cost R50 are already sold out. There are 20 000 tickets, costing R100, still available for the upper grand stand.
Kick-off time is at 20h30 for this crucial first match in the 2012 African Cup of Nations qualifiers.
Bafana Bafana Need to Qualify
According for Safa, Bafana Bafana captain Aaron Mokoena believes the team needs to qualify especially after failing to be part of the last edition of the 2010 AFCON in Angola.
"It was not good watching the continent going to the tournament and we had not qualified as hosts of the 2010 FIFA World Cup. This time we need to ensure that we are on that plane to Gabon and Equatorial Guinea for the 2012 AFCON. Without taking anything away from our opponents – Niger, Sierra Leone and Egypt – our performance in the World Cup has shown that we are capable of qualifying and we have no other alternative but to do so. We owe it to ourselves and to the nation to be part of the next AFCON tournament. I cannot stress this enough that we need to qualify because being there also helps the team in gaining experience. We have a young side that needs to go through the joys and pains of playing in the AFCON so that when the World Cup tournament comes they are ready for competition," said Mokoena.
Popularity: 1% [?]